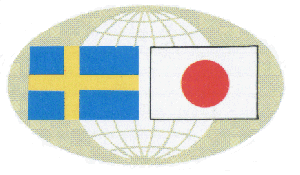 Japansk-Svenska Foreningen i Chubu
Chuou-Nishi, Minamiwake-Haitsu 1F, 2-6 Minamiwake-cho,
Shouwa-ku, Nagoya, Japan
TEL/FAX:052-851-6820
@The object of the Japanese-Swedish Society in Chubu is to foster and promote friendly relations between Japanese, Swedes and people who have an interest in Sweden. This is done by interacting with the Swedish diplomatic corps to Japan, corporate bodies and individuals.

---

The society conducts activities like round table conferences, concerts, movies, lectures, exhibitions, and introduces publications. It also produces a bulletin and a yearbook ("Smultronstallet").

---
INFORMATIONF
Alteration:"SUPER DRY-NAGOYA"

Gathering on 2nd Thursday in alternate months of odd numbers (i.e.January,March,...)at restaurant "SUPER DRY-NAGOYA"at Hirokoji-dori near Nagoya station from gathering on@MAY 10,2018.
Reservations (required) should be made at least 2 days before the event (on Tuesday).
@Phone: 052-851-6820

---

"Excellent Sweden", published by the Swedish Embassy

The Blond Blue Eyed japanese of Northern Europe
---

Swedish lessons for beginners:
Friday evening, 18:30 to 20:00
Satruday afternoon, 15:30 to 17:30
at ASAHI Culture Center, Sakae SKYLE Bld, .11F
Phone: 052-581-3631

Please follow these links to find information on Sweden! (J=Japanese, S=Swedish, E=English)
Stockholm Tourist Information (E) (S)
For extensive up to date listings on Japan, Sweden, Swedish etc. please go to Yahoo
Under their their listings for countries you find plenty of links. It is a search machine so you can also search for whatever you want.

For foreigners in Japan or interested in Japan these links may be of interest:
Insite Tokyo (E)
Tokyo Classifieds (E)
Japan Helpline (E) (J)

return to the index